Is Siteground Any Good & Should You Switch Your Blog Hosting To Them?
We've experienced and researched lots of hosting providers and Siteground consistently come out as one of the best. They are a great hosting company and operate at a level above many others.
In this post I will explain why we love Siteground, whether you should consider switching your web hosting to Siteground and hope this will help you decide if they are the right hosting provider for you.
Are you wondering, is Siteground any good? Read on to find out why we think they are a good choice in many cases.
1. Siteground Love WordPress
Siteground offer full feature WordPress hosting and setup conducted by their in-house experts.
Another great thing is that they are officially recommended by WordPress.org so you know you are in safe hands. What's more, their managed WordPress hosting runs at the same price as their shared hosting plans.
That being said if you don't use WordPress, Siteground have a site builder and support many other content management systems (CMS) and programming languages so you shouldn't have a problem.
2. Fantastic Customer Service
When you run a website or blog it's really frustrating when you have bad customer service experience. I've been with a various hosts and some wait times are horrendous. With some hosts you can submit a support ticket and they might not get back to you for 2 days. In some cases, if you're site is down, this can be so disruptive it can eat into your website earnings.
Equally live chat can have long wait times and you might get passed between agents a number of times before they can assist or just ask you to submit a support ticket anyway. If your site is down this can mean lost sales and money so you want someone there when you need them.
With Siteground this is something they are known for and excel at, providing industry leading customer service and support. Most issues are addressed and dealt with instantly while support tickets generally get resolved within 30 minutes.  When you need someone on chat they are there within a few seconds.
3. Instant Live Chat Support
Siteground chat support is excellent and when you need some help with something technical or have a problem that needs resolving you can find someone there instantly with virtually no waiting time whatsoever.
Most of the time they are able to help you there and then so you don't get passed on to various agents before getting the answer you need.
They aim to achieve 90% resolution at first contact and according to Siteground's data, they compared 12 different hosting companies with a simple request and the resolution times can be seen in the image below.  Their average live chat resolution turnaround time is 5 minutes and in our experience this is pretty accurate.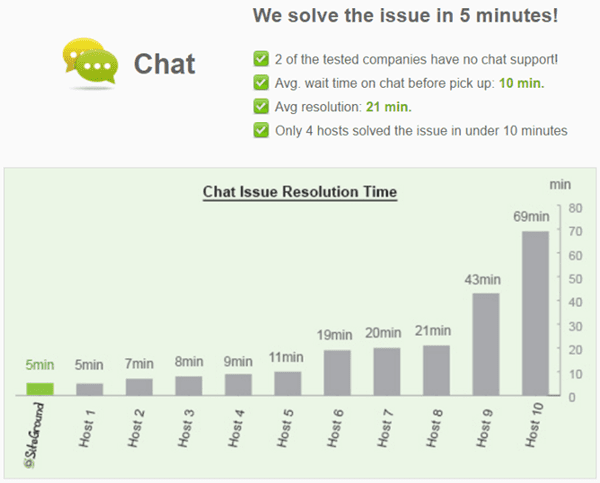 4. 30 Minutes Resolution for Support Tickets
As mentioned above Siteground's support ticket resolution time is fast. If you're query can't be resolved over live chat because you might need to supply additional information (such as a screenshot), that's when you can submit a support ticket.
With some hosting companies submitting a support ticket can mean waiting hours if not days before you get a reply. However at Siteground the experience is as smooth as ever with average first reply in just 15 minutes and many tickets resolved almost instantly.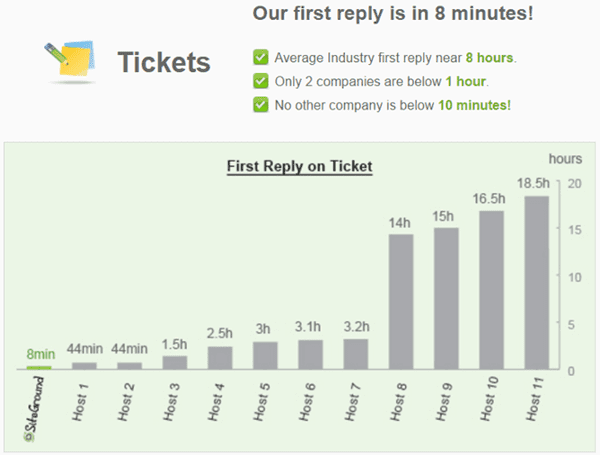 Visit SiteGround and get started with 67% off
5. Instant Phone Support
Most people will be happy to have their queries resolved via live chat or support tickets. But there are some occasions when you really just need to speak to someone in person. Again Siteground's phone support is second to none and they pride themselves on having no wait time whatsoever.

6. Site Speed
Having tried a number of different hosting providers in our time  (Rackspace, JustHost, iPage, FatCow, Namecheap as well as some smaller providers) Siteground's loading times have always been the fastest with no real experience of site slowdown.
With some hosts even a simple WordPress site can take over 5 seconds to load which according to research will put off visitors and hamper your google rankings. While we haven't done a benchmark test on this occasion check out Siteground's speed stats below.
You can even take advantage of their advanced website optimization solution "SuperCacher", a caching tool that accelerates websites with load times as fast as 680ms and is generally highly responsive.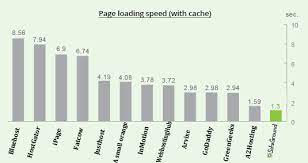 7. Top-Notch Security
Siteground have a host of innovations on the security front, many of which have been built in-house.  These come as standard when they would often be considered premium features with many other hosting providers.
Their 99.9% uptime guarantee and real-time server issue detection system detects 90% of issues and resolves them automatically to maintain performance. This can provide protection against things such as hacking and DDOS attacks whereby hackers create bots that send millions of simultaneous requests that can bring your site down.
Additionally they implement a shared server isolation system to provide added security so that in the event that an account suffered a vulnerability, it would not bring down the entire network. This unique isolation system provides the added security often found on more expensive dedicated servers
8. Free Backups
Many people don't realise how important backups are until they have a problem and lose some or all of their website data. This may not be due to malicious intent but could be due to a simple mistake or incompatibility issues with new feature installations and plugins.
Siteground backup WordPress and provide free daily backups to customers via their proprietary backup system which is included at no additional cost on all of their plans. This provides a great relief to customers.
Visit SiteGround and get started with 67% off
9. Environmentally Friendly
As an environmentally friendly web hosting company, Siteground embraces modern technology to become more efficient and reduce their carbon footprint. They look at sustainability from a unique angle, planting trees and cleaning the local area surrounding their facilities.
They work closely with their partners and do the best to ensure everything is as green as possible including a recycling program and regular eco-friendly events.
So you can feel reassured that you are making an ethical and environmentally sound decision when choosing Siteground as your hosting provider.
10. Price
While price shouldn't be as big a concern as other features such as loading speed and technical support it's still an important consideration for most people.
Fortunately Siteground is highly competitive on price with their shared hosting "Startup" plan starting at just $3.95 / month. Many other providers are around a similar price with those that are slightly cheaper, often sacrificing on service and features.
In the hosting industry you often get what you pay for and you may regret saving a dollar or two a month by going with a cheaper host when you eventually have an inevitable problem at some point down the road and encounter bad customer service.
Siteground are not at all expensive and highly affordable. While close to being among the cheapest to remain competitive, thankfully they don't sacrifice on quality in order to do so.
Conclusion
So is Siteground any good? As you can probably tell, we love Siteground, and from our research and experience have no hesitation in recommending them to anyone. They have a series of shared hosting plans so you can start with the cheapest option and can grow with you as you build out your site. If you need additional resources they are highly scalable so you can opt for their VPS or dedicated servers if and when you need them.
I'm Ready to Visit SiteGround and Get Started (67% off)
Have you had any experience with Siteground? Do you have any thoughts about your current hosting provider? Please leave a comment as I would love to hear from you.
If you're still undecided read some of our other articles in the hosting category or for inspiration on how to make money online while travelling check out this article