Buy and Sell Websites like on Flippa.com
Flippa is a well known site for buying and selling websites, domains and other online real estate. It's a go to site that's been around since 2009 and many people use it for finding and auctioning sites.
However prices vary considerably and you do have to be careful of scams and it does have it's fair share of low quality sites.  Nevertheless the Flippa escrow service offers some protection and there's always the chance you can find some hidden gems.
Below are some alternative marketplaces to flippa.com to buy and sell websites and domains.
Empire Flippers

Empire Flippers operate at the higher end of the online business market, dealing with sites that are already established.  In turn they have become recognised for this and are trusted for buying and selling websites having won the Inc. 5000 award for fastest growing companies in America three years in a row.
Pros
Value: Best for sites and businesses earning $2k-200k per month
Turnkey solutions: They take care of the transferring the site from the seller to the buyer. they take care of all the steps for transferring the website to a new owner.
Peace of mind: websites are thoroughly checked and vetted by the team prior to listing.
Safe: Due to their vetting process there is a low risk of problems arising from scammers.
Success Rate: 92%
Cons
Only for Top-tier websites: Most of the listings are north of $30K and run to over $1M if you deal in cheap and cheerful websites, look elsewhere – Empire Flippers doesn't really do anything South of $30K.
Expensive: $297 listing fee for new customers and $97 for returning listers. No guarantee your site will sell.
5% deposit: They require a deposit to initiate the 12-month data collection of a site. However it is refundable and adds to the platform's trust.
Brokerage Fee: 15% of final sale
Exclusivity: 6 months
Link: Empire Flippers
Exchange Marketplace (by Shopify)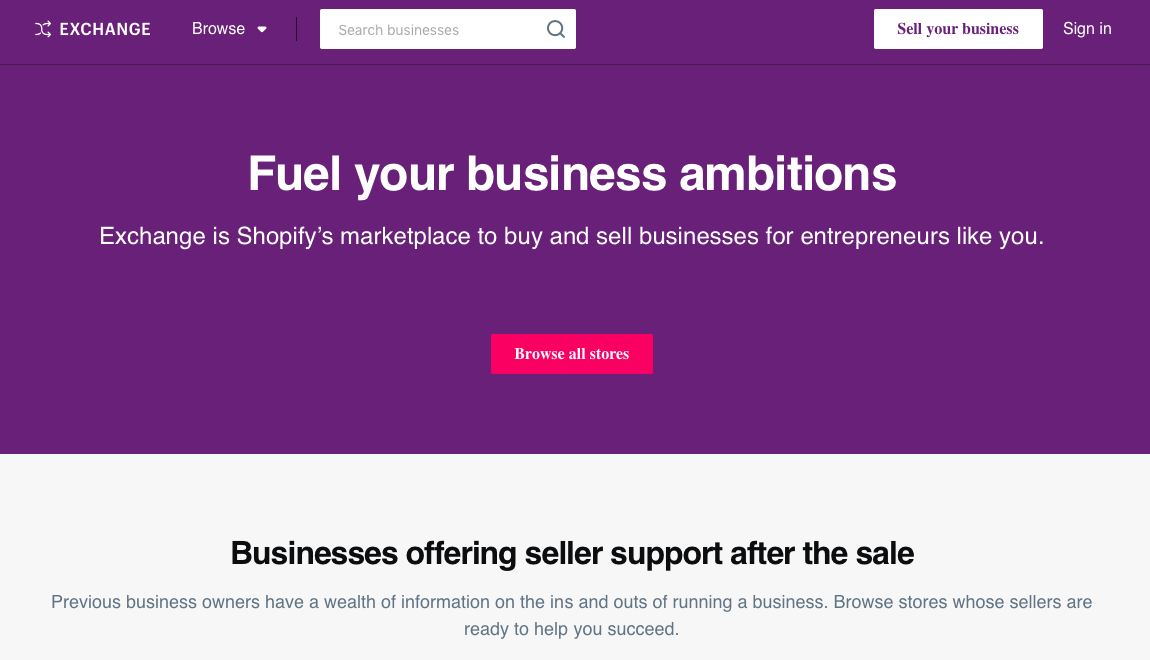 in 2017 Shopify attempted to muscle in on the online business sales space by piggy backing off their platform success with thousands of hosted customer shops. Given their popularity as a platform there is no shortage of supply of e-commerce and drop-shipping stores.
I really like that Shopify is taking care of vetting all the data – it means I would buy with confidence. As a seller, I also appreciate that the communication is anonymized.
Pros
Data Confidence: Shopify take care of collecting and vetting the sales data themselves so you know it's trustworthy. A huge advantage to all the other marketplaces! Store's expenses however are reliant on customer provided information.
Good choice: from starter sites to established drop-shipping businesses. 

Communication: All communication is anonymised which is nice for sellers.
Migration: Shopify manages both payment and migration for you, so you can buy and sell with confidence
Cons
Only Shopify stores: Inventory is limited to Shopify stores so you won't find other sites and businesses listed.
Seller fees not transparent: You will only find out the selling fees once you put your shop up for sale.
Link: Exchange Marketplace
Ebay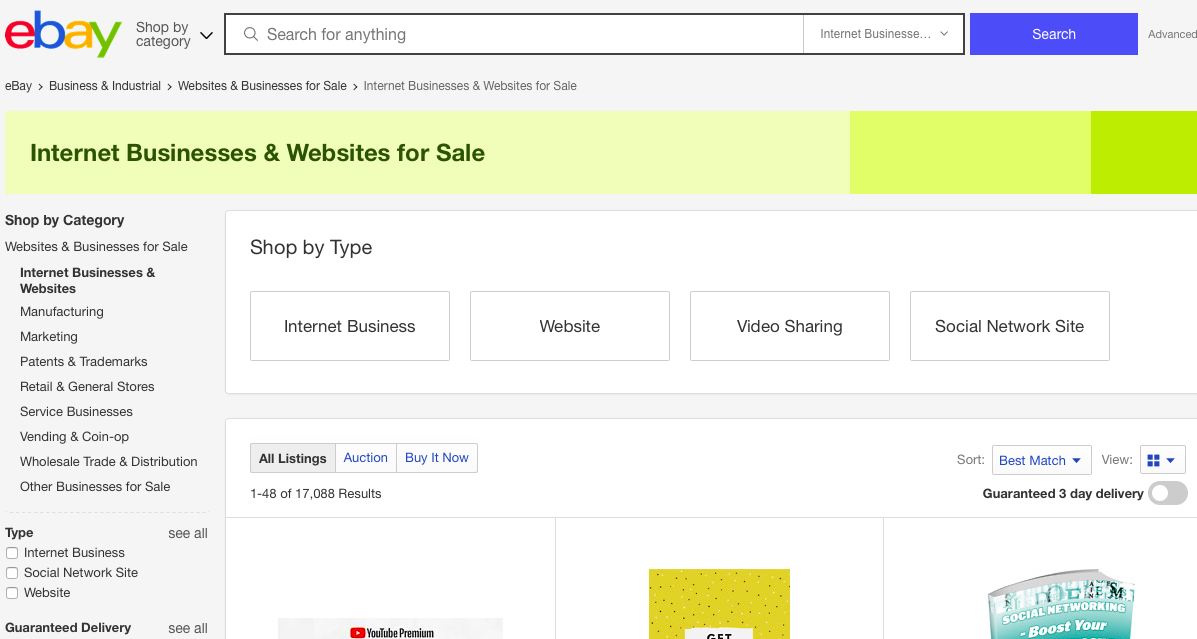 Ebay is a huge marketplace and you can buy and sell virtually anything.  They have a specific categories for "Websites and Businesses for Sale" including "Internet Businesses & Websites".
However you do have you be careful and do your research on anything you intend on buying as quality can vary dramatically.
Nevertheless online business auctions can be a fun way to buy or sell a site.
Pros
Huge marketplace: Over 17K businesses for sale at the time of writing.
Online Auctions: A great way to snap up a bargain.
Cons
Poor vetting: Almost anything can be listed for sale so be careful what you choose to bid on.
Beware of reviews: There's a whole secondary market for fake Ebay seller reviews, so take these with a pinch of salt.
Link: eBay
FE International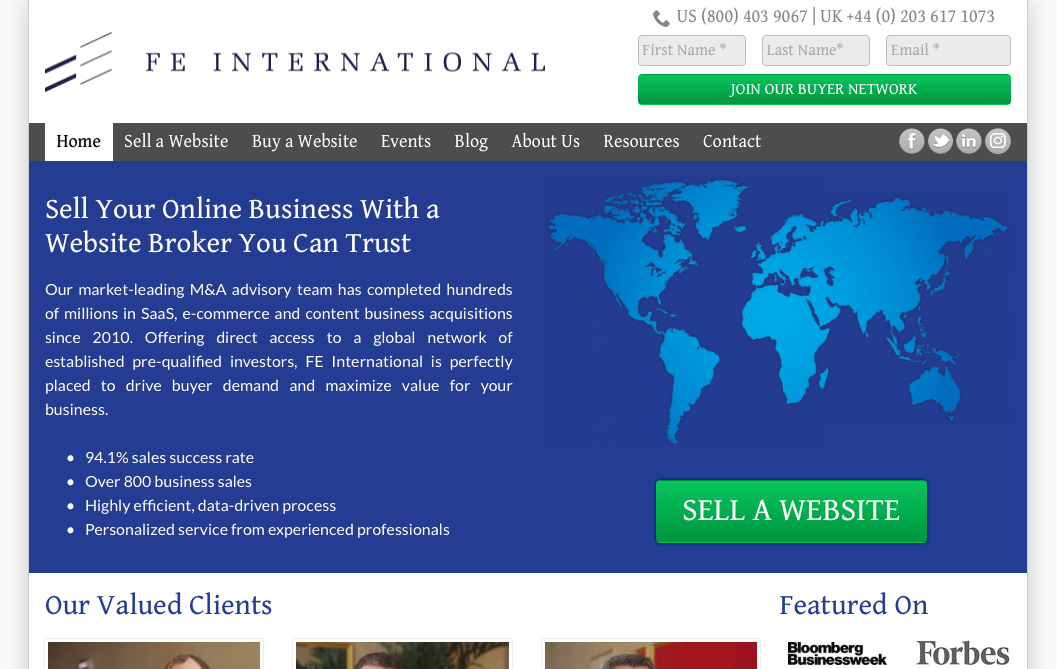 FE International is an established and trusted professional broker for online businesses. They have offices in three continents around the world and generally deal with higher end online business sales (think 5-figure plus).
If that's your market take a look at their features below.
Pros
Fast turnaround: Most transactions complete within 60 days.
Experience and trustworthy vetting process. Sellers must be prepared to provide revenue figures and bank statements.
Vetted buyers: Qualified buyers will have the opportunity to see listings before they go out publicly.
Cons
Only high-tier sites: As a professional brokerage service they generally deal with larger online businesses so if you are after smaller 4 figures businesses you will need to look elsewhere.
Fees: Buyers are charged 2.5% transaction fee (up to a maximum of $1000) upon purchase.
Link: FE International
Motion Invest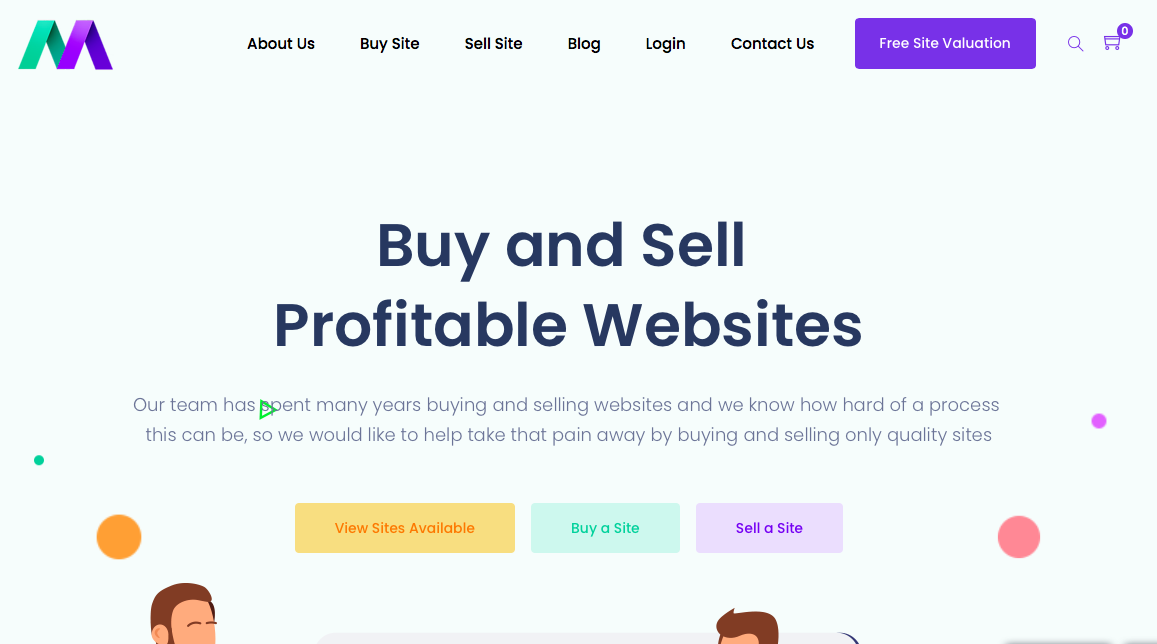 Motion Invest was started by the Spencer Haws of Niche Pursuits who has been dealing with niche blogs for years.
If Empire Flippers and FE International are out of your league then this site makes room for the little guys by finding high quality low earning niche sites.
After a thorough vetting process they will either offer to buy your site directly or list it for sale in the marketplace.
Pros
Great lower end value: Good for niche blogs and sites earning beetween $50-$2,000k per month.
Confidence: Their team will thoroughly vet the google analytics traffic and SEO health of a site.
Fee: 0% if you sell to them,
Cons
Fee: 15% if you list on the marketplace.
Exclusivity: 31 days
Link: Motion Invest
Sedo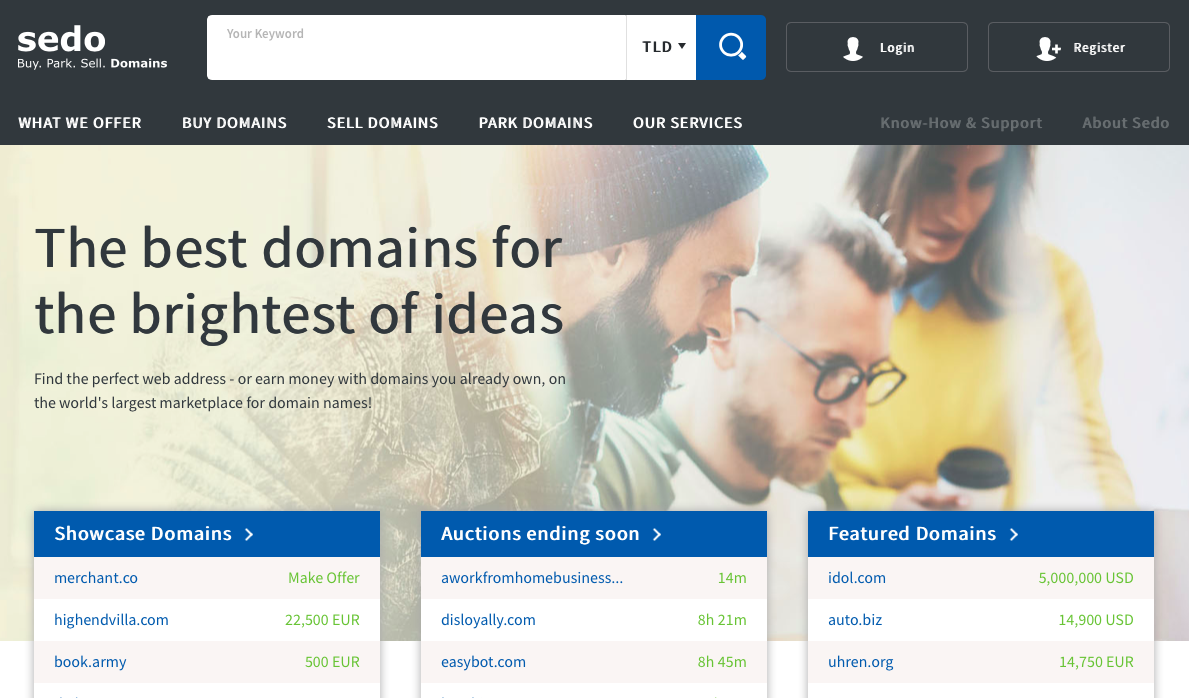 Sedo is near enough the biggest marketplace for domain names whether you're looking to buy sell or park.
They have high trust among users and sell around 3000 websites each day so there is something for everyone.
Note that GoDaddy and NameCheap also offer similar domain name marketplaces.
Pros
Free parking: Sedo hosts your domain for you while you put it up for sale while GoDaddy makes you pay for this service.
Huge marketplace: Around 2M domain names for sale.
Lots of payment options: Sedo lets you pay via Paypal, credit card or bank transfer.
Brokerage: Sedo provide an optional brokerage service if you would like some added assistance.
Cons
Domain names only: if you would like to buy or sell a business you will have to check out some of the other platforms.
Fees: Sedo take 10% commission on sales.
Link: Sedo
Freemarket.com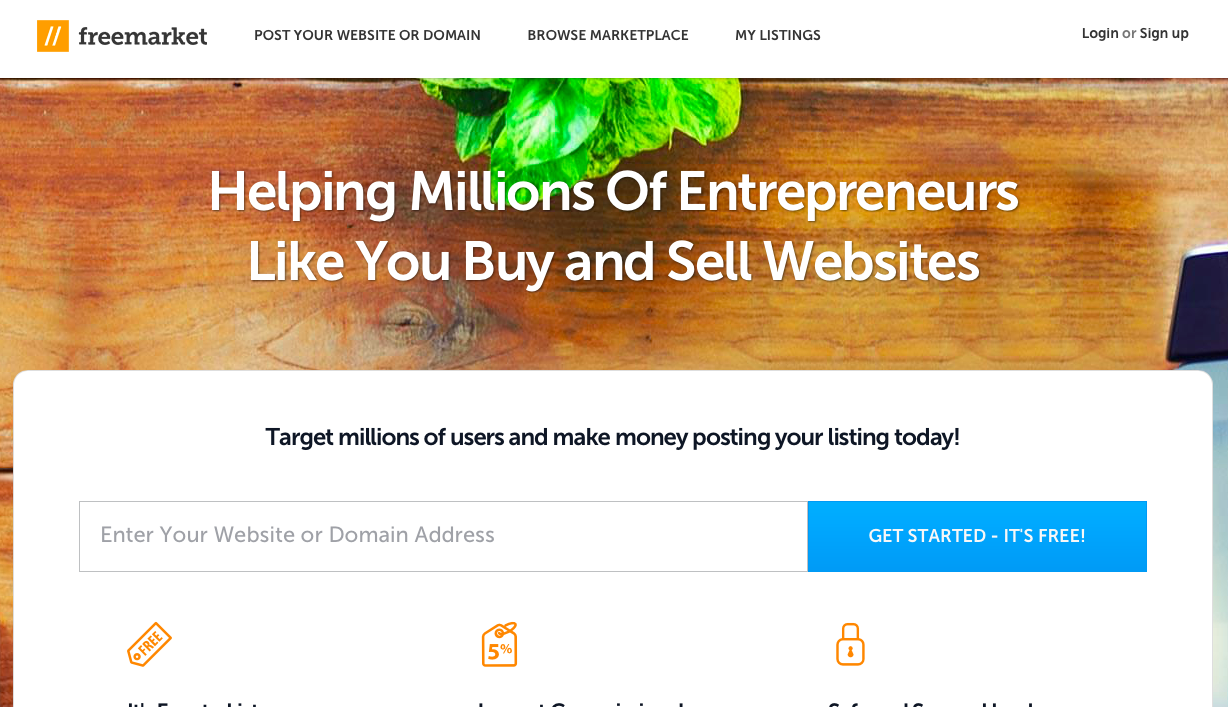 Like Exchange marketplace is a spinoff of Shopify, so Freemarket was launched by Freelancer.com to capitalise on second hand domain and online businesses marketplace.
It's not as popular as Flippa but makes for a close alternative.
One interesting point to note: the Australian company that owns Freelancer.com also bought Warrior Forum, which means they have strong online and marketing resources to draw from.
Link: Freemarket.com
Best Alternative Sites Like Flippa – Which one should you use?
There are a number of alternative marketplaces for domains and online businesses to choose from. The platform you choose will be influenced by your appetite for risk, type of business you're after, whether an affiliate niche site, Shopify drop-shipping store or trying to buy or shift a particular domain name.
Ultimately the platform choice will largely be led by your wallet and size of business you are after or looking to sell.
Do remember that buying and selling online can carry significant risk so it is always good practice to use an escrow service like Flippa's where possible and certainly for any significant amounts of money you can't afford to lose.
Even if you end up using Flippa hopefully some of these alternatives will provide you with some added inspiration.
Looking for website hosting for your next website project, consider Siteground and read our full review here