Is affiliate marketing a good way to make money?
Affiliate marketing is a popular way for individuals and businesses to make money online. The concept is simple: promote someone else's products or services and earn a commission for any resulting sales. But really, can affiliate marketing make you money? The short answer is yes, it can. In this article, we will explore the potential of affiliate marketing as a source of income and provide tips on how to get started.
First, it's important to understand how affiliate marketing works. Merchants, also known as merchants or vendors, offer an affiliate program to promote their products or services. As an affiliate, you are given a unique link or code to share with your audience. When someone clicks on your link and makes a purchase, you earn a commission. The commission rate varies depending on the merchant and can range from a few percent to 50% or more.
One of the biggest advantages of affiliate marketing is the ability to earn passive income. Passive income is money that you earn without actively working for it. Once you've set up your affiliate links and promotions, you can continue to earn money even while you sleep. This is in contrast to active income, which requires your constant effort and attention.
However, it's important to keep in mind that affiliate marketing is not a get-rich-quick scheme. Like any business, it takes time, effort, and patience to see results. Building a large audience and finding the right products or services to promote are key to success. It's also crucial to be transparent with your audience about your affiliate relationships and only promote products or services that align with your values and that you truly believe in.
Another factor to consider is the competition. With so many people and businesses promoting products and services online, it can be difficult to stand out. However, by focusing on a specific niche or target audience, you can differentiate yourself and attract a loyal following.
Is it possible to generate money with affiliate marketing?
"Yes," is the answer. Affiliate marketing spending in the United States is predicted to reach $8.2 billion by 2022, up from $5.4 billion in 2017 and $1.6 billion in 2010. Furthermore, affiliate marketing is used by 84% of publishers. In any case, the sector is expanding and prospering, which means there are more opportunities to make money as an affiliate marketer.
How much do affiliate marketers make?
There are several myths surrounding affiliate marketing. The fact is that the amount of affiliate money produced varies substantially. It's difficult to say for sure, but here's a rough breakdown based on the available statistics:
Almost half of all affiliate marketers earn less than $20,000 each year.
35% of affiliate marketers earn above $20,000 each year.
According to an affiliate marketing study by VigLink (Now Sovrn) in 2016, only 9% of respondents earned more than $50,000.
The majority of merchants (65%) said affiliate marketing accounted for between 5% to 20% of their annual revenue.
So, how can you get started with affiliate marketing?
Here are a few tips:
Choose the right affiliate programs: Research different affiliate programs and choose ones that align with your values and interests. Look for programs with a high commission rate and a good reputation.
Build your audience: Whether you have a website, blog, or social media following, it's important to have an audience to promote products or services to. Focus on building a loyal following by providing valuable content and engaging with your audience.
Promote products or services in a natural way: Avoid bombarding your audience with too many affiliate links. Instead, integrate them into your content in a natural way. Share your personal experience and why you believe in the product or service.
Track your progress: Use analytics tools to track the performance of your affiliate links. This will help you understand what's working and what's not, so you can make adjustments as needed.
Is affiliate marketing right for you?
In conclusion, affiliate marketing can be a great way to make money online and may be profitable. However, it's important to remember that it takes time and effort to see results. It takes time and money to turn it into a true business. Before you join on the affiliate marketing bandwagon, do your research.
Avoid placing all of your eggs in one basket. By choosing the right affiliate programs, building your audience, promoting products or services in a natural way, and tracking your progress, you can increase your chances of success. With patience and persistence, you can turn your affiliate marketing efforts into a significant source of income.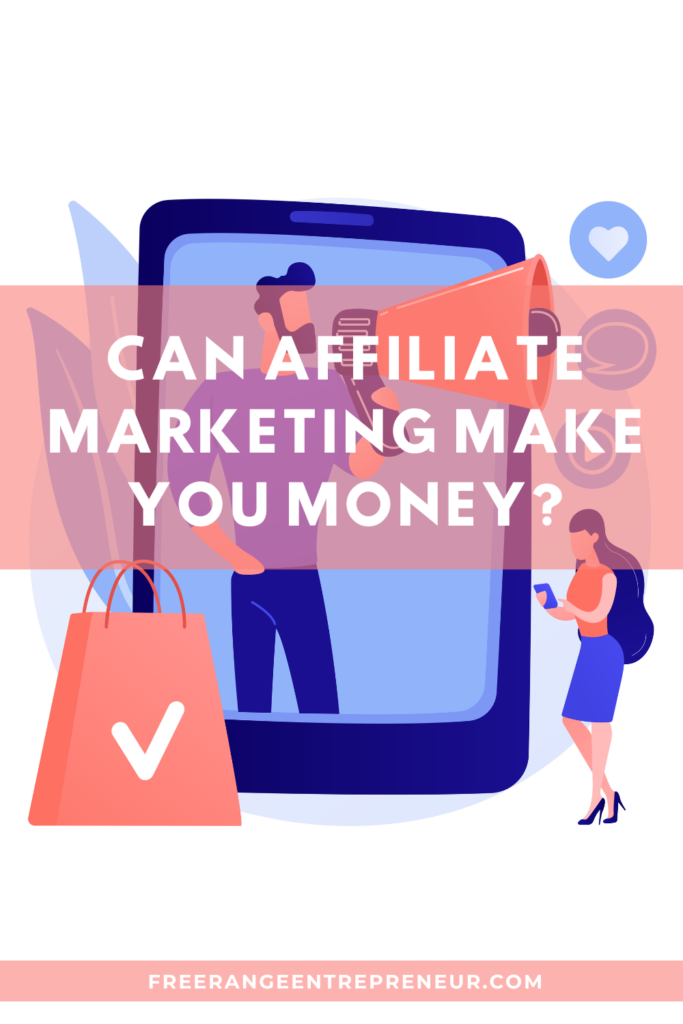 <a href="http://www.freepik.com">Image uses elements designed by vectorjuice</a>
Read more
Fiverr Affiliate Program Review: Is it Worth Joining? How to Earn Passive Income