In the middle of winter or arctic weather, you should have a down jacket to keep you warm and insulated from the elements. There's a reason backpackers and winter adventurers prefer a packable down jacket for their exceptional performance and convenience without the bulk.
These packable down jackets allow you to travel more conveniently without losing the important features of a good winter jacket by combining lower weights with sleeker designs. Feel free to move around when you're wearing it outside and when you're done, pack it and throw it in your bag with no worries.
What is a packable down jacket?
The Transformers of adult clothes are packable coats. They can be rolled up and stored totally inside one of their own pockets. Such coats can be sealed with a handy drawstring or zipped closure once they've been packed. Even if they don't have a handy pocket, they nature of a down jacket means they can be compressed and can be easily stuffed into a bag or backpack so are perfect for travel.
How warm is a packable down jacket?
Packable down jackets are thought to be less warm than their non-packable counterparts. Giving a coat the capacity to pack into its pocket, on the other hand, does not make it any less warm.
The true measure of warmth is what's known as "fill power".  The loft of a down jacket is what fill power measures. The loft is proportional to the fill power. The higher the loft of a down jacket, the more probable it is to contain pockets of warm air and keep the person warm.
Be on the lookout for a higher fill rating if you're shopping for a more advanced men's or women's packable down jacket. Typical outdoor down jackets have a rating of 500 to 700 points, with higher performance items reaching 800 or above. With 800 fill power or more, you should be able to get through even the harshest winter conditions.
Are packable down jackets water resistant?
Just as packable down jackets are sometimes (mistakenly) seen as being less warm, there is also a temptation to doubt a packable down jacket's water resistance. However, there is nothing in the process that prevents packable jackets from achieving the same water-resistant treatment as non-packable down jackets.
Because feather down loses its insulating effectiveness when wet, a jacket with a decent level of waterproofing is essential.
To tackle this, several manufacturers have begun insulating jackets with synthetic materials that can withstand moisture or by adding polymer to the down of the jacket.
Additionally, when the shell is composed of water-resistant materials like nylon, mild moisture will be wicked away rather than absorbed. The shell can also be coated with a water-wicking substance called Durable Water Repellent (DWR).
Lightweight Packable Down Jackets: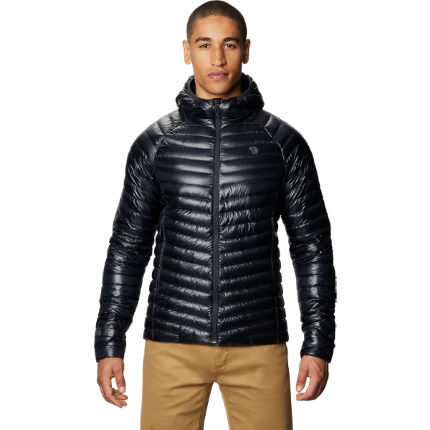 Mountain Hardwear redesigned one of the first lightweight down jackets, the Ghost Whisperer. The current edition, now known as the Ghost Whisperer "2," has a slight weight increase (about 1 oz. / 30g for the men's hoody) but a number of noticeable improvements. To begin with, there's a little more 800-fill down stuffed inside, and the recycled shell is a touch thicker, all of which translate to minor warmth and durability gains.
However, the jacket keeps true to its heritage, with exceptional packability and an incredible warmth-to-weight ratio, as well as key features like zippered hand pockets, a hem adjustment, and reasonable wind and water protection. The Ghost Whisperer 2 is still a good choice for quick-and-dirty operations.
Unfortunately, the fit and cuff design of the Ghost Whisperer 2 have not altered. The Mountain Hardwear is boxy and slightly big in the torso, unlike more fitted designs of other brands. It still layers nicely beneath a shell.   Furthermore, the cuffs are slack and don't make a particularly tight seal, allowing some air to get through unless gloves are used. Despite these flaws, the reimagined Ghost Whisperer is a popular choice among serious outdoor adventurers for its ultralight properties and warmth.
Shop Men's Ghost Whisperer 2 on Amazon Now
Shop Women's Ghost Whisperer 2 on Amazon Now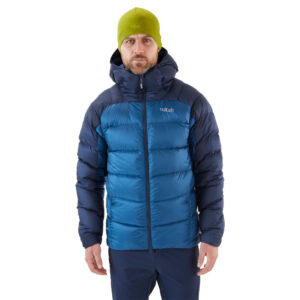 UK based Rab is one of our favourite outdoor apparel manufacturers, and the Neutrino is their popular down jacket for climbing and mountaineering in freezing conditions.
The jacket has just been updated with a Pertex Quantum Pro shell, but it still has all of the features that have made it a classic. Most crucially, the Neutrino has a lot of down—eight ounces (225g) of 800-fill hydrophobic down to be exact—for about the same price as Arc'teryx, Patagonia, and Mountain Hardwear's less warm choices.
Its 20-denier shell has a premium feel to it and provides good weather protection. That's a lot of value for your money.
Drawback is the overall weight, which is over 1 pound 5 ounces (approx. 700g) , which is enough for severe winter circumstances but excessively heavy and warm for milder climates. That being said, the Rab, is a very warm and comfortable winter jacket.
Shop Men's Rab Neutrino Pro on Amazon Now
Shop Women's Rab Neutrino Pro on Amazon Now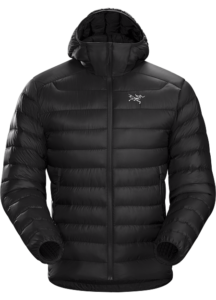 Arc'teryx tend to be the most expensive, have the greatest looks, and function well enough for seasoned explorers to put them through their paces on a regular basis.
The Cerium LT Hoody is the company's most popular lightweight down jacket, as well as a stylish item of clothing. The Cerium LT plays and looks the part, with a total weight of 10.8 ounces (~300g), a great feature set, a smooth inside and exterior, and a very sleek design overall.
We also appreciate the Down Composite Mapping method, which adds synthetic insulation in areas that are most likely to get wet. While the majority of the jackets on our list are feather down, Arc'teryx has struck a nice combination of lightweight warmth and practicality.
The biggest bug-bear of Arc'teryx's jacket is the price which is more than competitors.  The fit is slim/athletic, which is wonderful for performance but won't work for everyone and restricts the amount of layering you can add below.
All in all, the Cerium is a well-made piece of kit that looks excellent and can hold its own in the outdoors.
Shop Men's Arc'teryx Cerium on Amazon Now
Shop Women's Arc'teryx Cerium on Amazon Now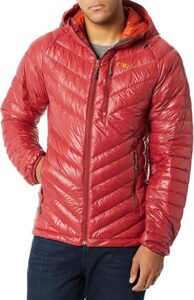 Outdoor Research jackets aren't always the highest-quality or most technically advanced on the market, but they do offer some of the best value for money.
The OR Illuminate hoody is a bargain compared to the more expensive alternatives but it's no slouch in terms of performance, it's a fully down mid-layer at great price.
You can anticipate a narrow fitting low bulk jacket that feels wonderful beneath the shell, but don't expect too much in the way of weather protection.
The Illuminate is lightweight and packable, stuffed with 800 fill power down and enclosed in a 10 denier nylon shell, with a climber oriented handy stowaway pocket to keep you toasty pitch after pitch or mile after mile.
The Illuminate is a lighter, slimmer, and better looking version of the legendary OR Transcendent, with more fill power and a thinner shell than its bulkier cousin.
This comes at the expense of weather resistance and durability, but if you're disciplined and don't use this jacket in the harshest conditions you'll be compensated with a light and warm mid-layer at a lower price than many of its competitors.
Shop Men's OR Illuminate on Amazon Now
Shop Women's OR Illuminate on Amazon Now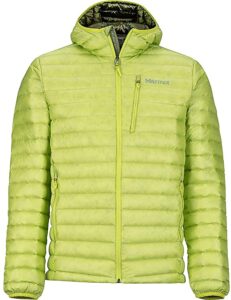 The Quasar Nova Hoody Jacket by Marmot is well-made and reasonably priced. The Quasar is a classic down jacket with a simplistic design. It's a lightweight, comfortable down jacket with an outdoor style.  This jacket is ideal for both utilitarian and leisure wear, and it is lightweight and packable.
The Quasar Nova Hoody is constructed of nylon and 800-fill down, but the down has been treated to keep you warm even when wet with a water-resistant fabric.  It's a very warm jacket especially for it's weight that is above average in terms of overall performance but is let down by not holding out so well in the wet compared to other technical jackets.
The jacket's elastic cuffs and drawstring bottom hem keep it in place during vigorous wear while also trapping warmth within. The connected hood features elastic to keep it in place and prevent it from flying off in windy weather and is large enough to accommodate a helmet.
The structure eliminates cold spots by weaving two fabric layers together into baffles, thereby removing the need for stitching while still keeping the down insulation in place.
A decent all-around jacket that isn't overly bulky. This is a compact, lightweight layer of protection to carry with you, with plenty of pockets and the flexibility to compress into its own pocket.
Shop Men's Marmot Quasar Nova on Amazon Now
Shop Women's Marmot Quasar Nova on Amazon Now
While the Rab Neutrino Pro is a great choice for technical pursuits in extreme cold, it's too warm for moderate winter weather and overbuilt for regular usage.
The Cubit Stretch Down Hoody however is a streamlined and more accessible version of the Neutrino but still shares the Neutrino's superb manufacturer build quality.
The use of Pertex's 3D Weave Technology provides the jacket with a significantly soft and comfortable feel while still giving exceptional wind resistance and flexibility. Indeed, we were impressed by how flexible and soft it was over the plasticky feel of many down coats.
Rab's Cubit, like the Neutrino Pro, has a YKK front zipper, pre-woven baffles, a DWR coating, hydrophobic down, and the Pertex shell to increase weather resistance.
In terms of drawbacks, the Cubit is pricey and heftier (1 pound 3.9 ounces / 566g) but not too weighty. It doesn't compress as nicely as other of the more expensive jackets on our list but you're getting a lot of warmth for the money and the comfort and style are unquestionable.
Shop Men's Rab Cubit on Amazon Now
Shop Women's Rab Cubit on Amazon Now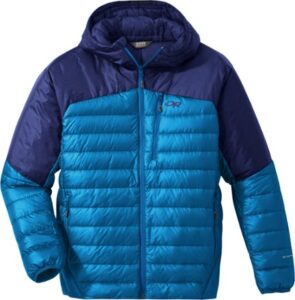 For adverse weather and rugged terrain, this weather and tear resistant down provides a superb winter belay coat.
The OR Helium Down Hood isn't your average lightweight down that snags on something tiny and starts bleeding feathers or soaks through at the first sight of drizzle. This garment thrives in harsh wilderness situations since it is built to be a little more durable than the normal down jacket and has nice touches like fleece lined hand pockets.
It features an exceptionally durable and abrasion resistant nylon shell that is less prone to tearing, waterproof arms and a hood, and is convenient to layer under. All of these benefits come at the expense of a heavier weight and a slightly bulkier fit.
For low to mid-weight insulation, the OR Helium Down Hoodie is on the warmer end of the spectrum. The nylon outer shell's wind resistance contributes significantly to this. It just takes a small amount of wind to make the ambient air temperature seem much cooler.
The 800 fill down is made from environmentally produced materials and functions as an excellent insulator but the weight of this jacket is its biggest drawback. This isn't light by today's standards at 15.4 ounces (436g), but the warmth-to-weight ratio and weather resistance are rather good.
This purpose-built down is more specialised than your normal ultralight insulating layer, since it was designed more as a robust belay garment than as a piece of ultralight hiking gear. The increased weight is a trade-off for better weather protection and other qualities that come in handy on cold mountain days.
This jacket is perfect for wilderness trips where you could be wading through bushes to reach a crag or trapped in the rain so you can move swiftly and stay warm.
Shop Men's OR Helium Down on Amazon Now
Shop Women's OR Helium Down on Amazon Now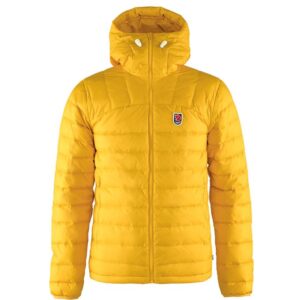 The Expedition Pack down jacket from Swedish manufacturer Fjallraven exemplifies how well high design and performance can be combined.
To begin, you won't get the 800-fill-power down or higher that companies like Arc'teryx provide, but it's a good alternative for casual usage and for day-long activities.
The jacket offers a good quantity of 700-fill down for warmth, synthetic insulation in the shoulders for further weather protection and toughness, a great hood, and an athletic cut that is not as baggy as many of the other alternatives on our list.
Overall, we enjoy the Expedition Pack's premium appearance, quality and adaptability. The Expedition Pack Down's comfort, attention to detail, and superb appearance, all highlight the brand's overall expertise.
Shop Men's Fjallraven Expedition on Amazon Now
Shop Women's Fjallraven Expedition on Amazon Now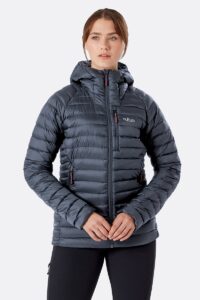 The famous Rab Microlight Alpine Jacket, like the heavyweight Neutrino Pro above, pays homage to the brand's climbing legacy.
To begin, a strong Pertex Quantum shell, DWR coating, and hydrophobic down are designed to withstand wind and mild dampness. Furthermore, the jacket's wire-brimmed hood has a hardshell-like feel, providing excellent all-around covering and protection.
If the weather becomes bad, you'll still want to wear a waterproof layer, but the Microlight Alpine is one of the better weather-resistant midweight down jackets out there. While not waterproof, this jacket is extremely water-resistant and manages to do so thanks to the excellent DWR coating while being comfortable, light, and compressible.
The Rab Microlight Alpine Jacket excels as a technical mountain layer as well as a general-purpose everyday jacket thanks to its low weight, packability, and fitted fit. At 15.4 oz. (436g) it is comparable to the OR Helium. Its new design has a zoned micro and nano baffle stitch-through construction that provides ample core warmth without limiting movement.
GRS-certified 700 fill power P.U.R.E recycled down will keep you warm. Elasticated cuffs, a compact stuff sack, as well as three harness-friendly zippered pockets and an adjustable down-filled hood with strengthened peak, are all key features of this mountain focused piece.
You can enjoy the benefits of down and will be grateful that Rab has created a down hoody that can withstand a bout of rain.
Shop Men's Rab Microlight Alpine on Amazon Now
Shop Women's Rab Microlight Alpine on Amazon Now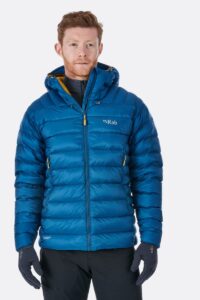 The Rab Electron Pro is a wonderful insulating layer for climbers, skiers, and hikers, with an athletic fit and a wide range of motion. This jacket is quite lightweight (17.25 oz / 490g) and compresses into a tiny package, despite the high amount of warmth it delivers, making it a good choice when pack space is limited and the weather is chilly.
This jacket is more expensive but has a higher fill power than the Rab Microlight Alpine. The 800 fill hi-loft goose down utilised in this jacket will keep you warm whether you're in for a lengthy belay or chilly outdoor session. You'll be ready for the coldest days in the mountains and on the slopes when you combine it with a base layer and a midweight fleece.
While this jacket is warm, the bulkiness of the down makes it harder to put a waterproof layer over top. That being said, because of the zoned design and micro baffle stitching, this jacket is less bulky and has fewer cold patches than other comparable down jackets.
The Electron Pro is one of the warmest coats in this list. The 800 fill down utilised in this medium bordering on heavyweight coat was designed specifically for winter sports like mountain climbing and skiing.
Shop Men's Rab Electron Pro on Amazon Now
Shop Women's Rab Electron Pro on Amazon Now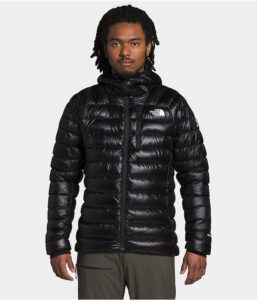 The North Face Summit Down is a high-end mountain-ready jacket with essential features and excellent attention to detail.
This coat is great for climbers, hikers, and skiers who require a truly warm, packable jacket, with 800-fill hydrophobic down, a helmet-compatible hood, and huge pockets that remain accessible when wearing a harness.
There are five pockets in total, including an external zipped breast pocket, so you can keep your phone, nibbles, gloves, and other small items handy.
While the body tapers at the waist, there is no adjustable waistline, which some might feel is a disadvantage. This jacket is ideal for serious climbers, skiers, or anybody who spends a lot of time outside in the cold and will take on almost any adventure.
Shop Men's TNF Summit Down on Amazon Now
Shop Women's TNF Summit Down on Amazon Now
Forclaz Trek 100 Mountain Trekking Packable Down Jacket ($79.99 / £49.99)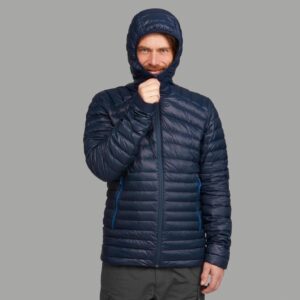 The Decathlon Forclaz Trek 100 down puffer jacket is made to be light and packable while also offering enough weather protection.
The Trek 100 jacket is made of 800-fill ethically sourced down insulation that complies with the Responsible Down Standard, and it folds into its own pocket. It also boasts a water-resistant coating that keeps mild rain and snow out.
It is the most compressible of Decathlon's down coats, taking up less room in your backpack and allowing you to travel light.
Available from Decathlon, one of the astounding things of this jacket is it's low price, and makes it one of the best 800-fill down coats on the market in terms of value for money. Synthetic versions of the jacket are also available.
Shop Men's Forclaz Trek 100 on Decathlon US
Shop Women's Forclaz Trek 100 on Decathlon US
Shop Men's Forclaz Trek 100 on Decathlon UK
Shop Women's Forclaz Trek 100 on Decathlon UK
Simond Mountaineering Packable Down Jacket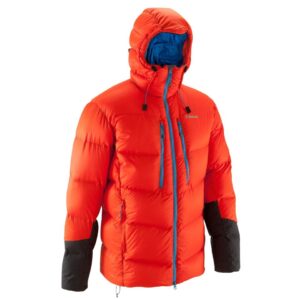 If you're looking for something more serious than the Trek 100 above then the Simond Mountaineering Down Jacket is the warmest down jacket Decathlon make! Down-filled and carefully designed to keep mountaineers warm on cold-weather trips.
High loft, low weight (610 g in size L / 21.5oz.), and compressible into the stuff sack for carrying the jacket on the mountain.
It's also water-resistant, featuring a strong reinforced section at the bottom of the sleeve to protect you from the elements.
This jacket is designed for temperatures as low as -29°C and offers good wind resistance. Adjustable with two systems at the front and rear of the jacket, the down hood enables it to be worn over your mountaineering helmet.
A comfortable, technical down jacket that punches above it's weight for the price. At the time of going to press this jacket only appears to be available from Decathlon UK/EU.
Shop Men's Simond Mountaineering Jacket on Decathlon UK
Shop Women's Simond Mountaineering Jacket on Decathlon UK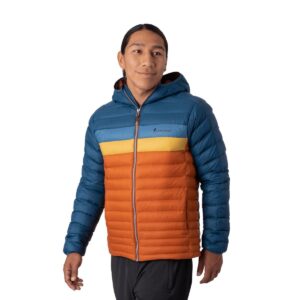 Many down jacket makers style their jackets to fairly conservatively, but Cotopaxi stands out with its unique, throwback designs.
The Fuego is the Utah brand's top down jacket, featuring quality 800-fill down as well as a flexible 20-denier shell that is quite robust while keeping weight down.
Of course, it's the nostalgic aesthetic that really stands out, and Cotopaxi is now offering the jacket in different hues, all of which have the trademark coloured baffles on the front. What's more, the materials include ethically sourced down and the fact that Cotopaxi is a B Corp.
The material quality of the Cotopaxi is one slight drawback and has a slightly plasticky feel, However the Cotopaxi Fuego does strike a good blend of performance, casual appeal, and value so ultimately is a jacket that's easy to love.
Shop Men's Cotopaxi Fuego on Amazon Now
Shop Women's Cotopaxi Fuego on Amazon Now
How to care for your packable down jacket?
Each packable down jacket has its own set of care requirements. We recommend double-checking your jacket's tag for specific washing and care recommendations.
Clean the portions of the jacket that need some TLC with warm soapy water for tiny dirt stains. In no time, you should have a new jacket!
When cleaning down, our top pick has to be Nikwax Down Wash Direct.
Keep your jacket out of its bag while you're not travelling to help it maintain its shape and form.
For more women's down jackets read on here:
Best Packable Down Jacket Women's Winter Coats for 2022
Other articles you might be interested in:
Best Affordable Waterproof Fitness Trackers For Outdoor Sports In 2021