SiteGround at a glance
From $3.95/month
Environmentally Friendly
9.8/10
Benefits
Money Back Guarantee - 30 days
Disk Space - 10 GB SSD - 30 GB SSD
Domain Name - New or Transfer - New or Transfer
Trusted name, easy setup and superb reliability since 1998
Recommended by WordPress
FREE site transfer & new site setup with 1-click install
24/7 expert support with 0 wait time on phone or chat
99.9% uptime guarantee
FREE automated daily backups, CDN, email, and SSL
Pricing
"StartUp" Plan $3.95/month
"GrowBig" Plan $5.95/month
"GoGeek" Plan $11.95/month
SiteGround Definitive Review – Overall
"To us, the key to being green friendly is efficiency. Through server virtualization, we minimize server overhead and reduce carbon footprint" tweeted SiteGround.
SiteGround has a well known reputation as one of the most reliable and feature-full WordPress hosting providers and is one of the major players in the web hosting space. The web hosting company offers a number of affordable plans, unlimited bandwidth and an impressive set of hosting tools to help you manage your websites more efficiently.
SiteGround scores highly in terms of speed and uptime which ensures your site will load quickly for your visitors. From custom software to industry leading customer support, SiteGround offers a full range of web hosting features such as free Cloudflare CDN, cPanel, SSH access and unlimited MySQL databases as well.
Excellent customer support has enabled SiteGround to earn the reputation they have. They have custom solutions to make hosting with them as stress free as possible. They have a custom built their customer chat software that gives customers the option to choose customer service advisors who they've worked with previously. SiteGround also built their own support ticketing system, including an algorithm that assigns the most appropriate tech support agent for the task.
SiteGround shared hosting features a one-of-a-kind server isolation system that prevents vulnerable servers from taking down the rest of the network. Instead of VPS hosting SiteGround have a cloud platform featuring thousands of containers that mean high scalability and security.
SiteGround has a unique downtime prevention system and impeccable downtime 99.996% annually and 99.999% monthly.
Read on in this SiteGround definitive review to find out more about our analysis of this host and how they fare against other green hosting providers in the industry.
Key features
✅ FREE site transfer or new site setup
✅ 24/7/365 expert support with 0 wait time on phone or chat
✅ FREE automated daily backups, email, SSL and CDN
✅ Recommended by WordPress as a top WordPress host
✅ Suitable for business email hosting
✅ 99.9% uptime guarantee with above average uptime reliability and performance
✅ Generous usage limits and unmetered bandwidth for all plans
✅ Fast load times keeps your visitors happy and helps rank higher on search engines
Visit SiteGround and get started with 67% off
Environmentally Friendly
As an environmentally friendly web hosting company, SiteGround embraces modern technology to become more efficient and also looks at sustainability from a unique angle, planting trees and cleaning the local area surrounding their facilities.
Key to SiteGround's environmental focus is through efficiency as they tweeted 'Through server virtualization, we minimize server overhead and reduce carbon footprint".  Which means they are at the front of innovation adopting the latest hosting technologies and constant improvements ensuring customers receive the best service. For example, they were among the first to offer custom Let's Encrypt SSL integration.
They work closely with their partners and do the best to ensure everything is as green as possible including a recycling program and regular eco-friendly events.
Reliability & Uptime
SiteGround is a host that prides itself on staying at the forefront of innovation. They were one of the first to implement a shared server isolation system to provide added security so that in the event that an account suffered a vulnerability, it would not bring down the entire network. This unique isolation system provides the added security often found on more expensive dedicated servers
SiteGround has a 99.9% uptime guarantee and real-time server issue detection system whereby 90% of issues are detected and resolved automatically to maintain performance.  Their impeccable track record over delivers with 99.996% uptime annually and 99.999% monthly.
and they provide free daily backups to customers via their proprietary backup system and is included at no additional cost on all of their plans.
SiteGround are renowned for their performance and speed enabling super fast page loading speeds and facilitated by their advance site optimisation caching system called "SuperCacher". It includes a variety of different settings and performance is slightly better than industry average with load times as fast as 680ms and generally very responsive.
They also include free Cloud Flare CDN so not only will this ensure your site is on a rock solid platform but it's also delivered to your visitors as quickly as can be by serving up your site via the Cloud Flare CDN network.
SiteGround continually monitor and detect threats to software while maintaining updates and performing patches as necessary. Their hardware architecture is maintained, continually tested to optimize performance and updated regularly.
Features
SiteGround delivers great value with many features and add-ons with all three of the shared hosting plans. You can build a website with their Weebly builder or easily import a site with the automated WordPress import function. If you are looking for something more business oriented you can benefit from an integrated CMS, SQL databases and unlimited email accounts for your site needs and staff.
SiteGround have the basics covered with spam filters, hardware and software redundancy and automatic patching to prevent security vulnerabilities. But if you need more advanced features you have control of multiple PHP versions, FTP accounts, Git repository and staging server 1-click setup. You can also rest assured that your precious website data is safeguarded by free automated daily backups (up to 30 copies). Their GoGeek plan provides a further layer of safety with the option of free backup restores and on-demand backups.
Visit SiteGround and get started with 67% off
Support
Excellent customer support has enabled SiteGround to earn their reputation in the industry. They have custom solutions to make hosting with them as simple and stress free as possible.
They have custom built their support chat software that gives customers the option to choose customer service advisors who they've worked with previously. SiteGround also built their own support ticketing system, including an algorithm that assigns the most appropriate tech support agent for the task based on their skill and expertise.
The result of SiteGround's investment in their support systems custom engineering and service translates to near instant replies to phone call and chats, 10 minute email ticket support and a customer satisfaction score of 99.7%!
SiteGround provides support in English, Spanish and Italian. If you sign up for their GrowBig or GoGeek plans you get an additional level of priority service. Overall their support service agents are fast and effective.
Pricing
SiteGround offer a range of shared hosting plans as well as cloud hosting and dedicated servers. Their shared hosting plans come with all the essential web and WordPress services you would want including website transfer, email accounts, apps, SSL certificates, unlimited MySQL databases and traffic allowance, 24/7 support and 30 day money back guarantee.
Don't forget you will also benefit from free daily backups, admin tools via cPanel, Cloudflare CDN and SiteGround's excellent uptime record.
The StartUp plan is great to get started with one website at $3.95 a month and 10GB of space, while their upper two plans GrowBig and GoGeek have bigger storage allowances and priority technical support. You also benefit from SuperCacher for improved speed and performance. Their top tier plan GoGeek has fewer accounts per server and other added advanced features such as premium hardware, PCI compliance included, pre installed Git and staging environments great for developers or agencies.
SiteGround prices itself towards the higher end of the shared hosting spectrum yet are still competitive and affordable. One great thing is that they are officially recommended by WordPress.org and their managed WordPress hosting run at the same price as their shared hosting plans. Their features such as SSD infrastructure and premium features are among the best in the market providing awesome value and makes it well worth the investment.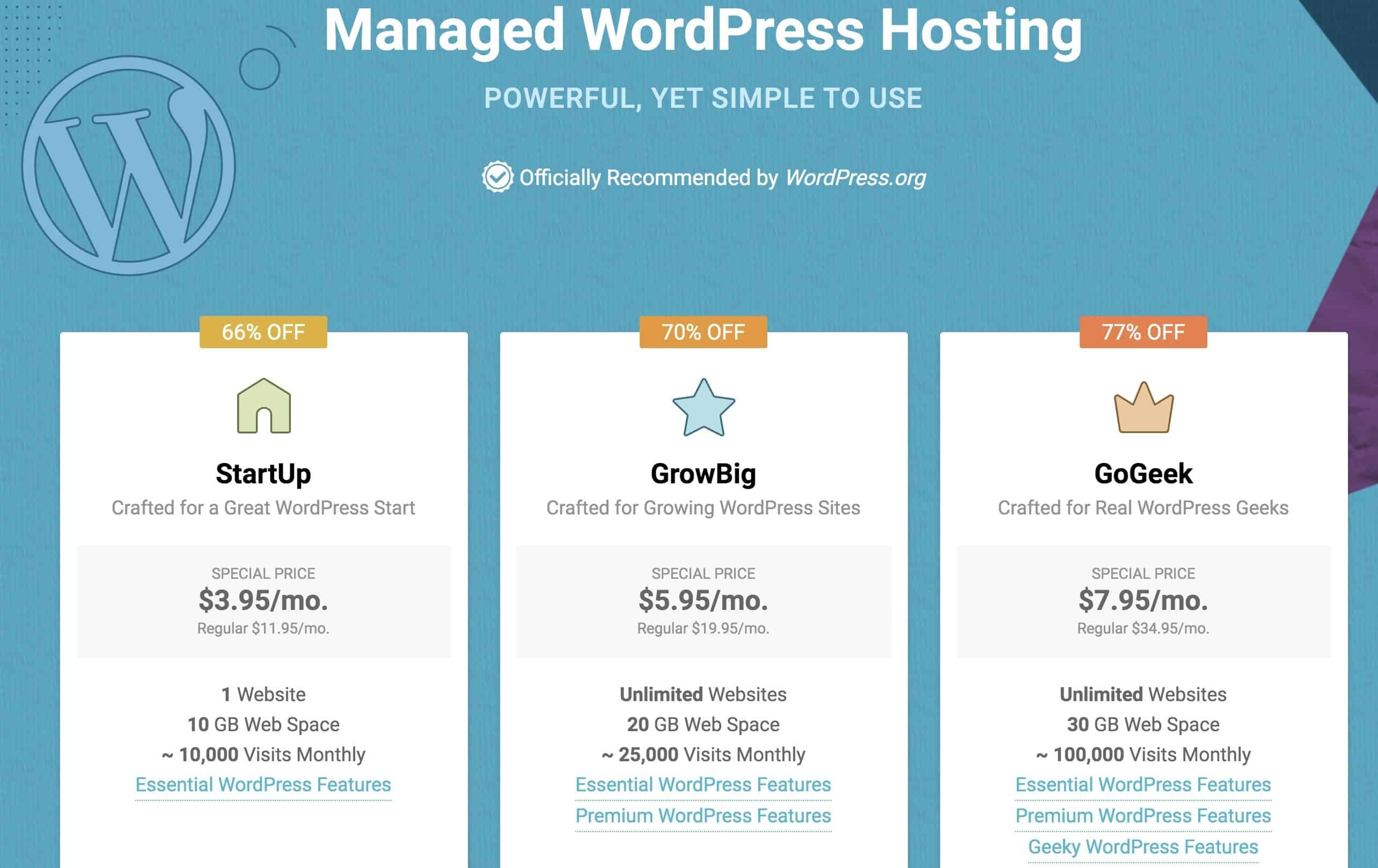 Visit SiteGround and get started with 67% off
User Friendly
SiteGround are great for both beginners and advanced users. Beginners have user of their free website builder (based on the Weebly platform) and automated WordPress transfers if you are looking to migrate your existing site. For more advanced users we were impressed by the deeper functionality available. For example you can choose which version of PHP to run, easily setup staging server and connect multiple SQL databases.
SiteGround have an easy to navigate backend UI giving users administrative control via cPanel which is flexible and easy to use no matter your skill level or abilities behind the scenes. There are a wealth of features and add-ons on offer and easy to use 1-click installs (including WordPress) so you can get off the ground quickly.
SiteGround's in house experts are always on hand 24/7/365 to help whether it's general questions or WordPress setup tips. There are a number of tutorials and guides that have been put together by their support team including step-by-step guides that make launching your website a breeze.
As previously mentioned, SiteGround's bespoke technology, systems and customer service means it's straightforward to raise any installation, development, website transfer or payment concerns via their support ticketing system or chat directly with a customer service agent when you need them.
SiteGround Definitive Review – Summary
Pros
✅Getting started is quick and easy thanks to their free site builder and transfer service.
✅Many useful and advanced tools for integrating and administering your website.
✅24/7365 industry leading support via chat, phone, or email.
✅Outstanding dependability with above average uptimes and reliable performance.
✅Recommended by WordPress as a top WordPress host.
✅Fast load times thanks to SuperCacher helps keep your users happy and rank better on search engines.
Cons
❌All the features can be a little intimidating to explore in the beginning.
❌Their pricing plans are at the higher end of the market for shared hosting.
❌Storage could become an issue on the entry level plan if your site is data intensive.
Visit SiteGround and get started with 67% off
SiteGround is a dominant market leader for a reason and provides the customer service and tech features to match.  Beginners can hit the ground running with their website builder and CMS while teams can make use of more advanced features and organise their data and maintain version control with Git.
As an environmentally conscious host they meet the mark if you're looking for greener hosting but ideally we would like to see them do a little more towards this goal or at least publish more of what they do to be green.
That being said, their focus on delivering exceptional quality is reflected in many of the features and smaller touches around their service and platform. Their 24/7/365 customer support is always available and supported by custom built software to make your hosting experience and life easier. They are also consistently one of the fastest rated hosts in testing!
While the price is at the higher end for shared hosting they rank among the top due to their high-end features and reliable performance.
If you're ready for faster and safer website hosting today click below.
I'm Ready to Visit SiteGround and Get Started (67% off)
Check out more reviews