How to Wash: Down Jacket
As an outdoorsman or woman your down jacket is undoubtedly one of your most valued items.  However, wearing it a lot, as is often the case in winter, exposes your beloved layer to lots of dirty grime.
When the winter months arrive, down coats are a must-have outdoor item. Providing us with warm and dependable insulation to keep us warm in the winter. Unfortunately, dirt and grease, as well as body oils, accumulate in down jackets over time, reducing the loft and lifespan of the down.
It's critical to wash your down layers to keep your precious puffer performing well and surviving year after year of grime. We understand how intimidating it might be. But it's not as daunting as it appears.
Down coats are made to withstand some of the worst weather conditions in the outdoors. They are the epitome of cold-weather lightweight protection. Their one-of-a-kind design necessitates extra caution when cleaning.
Naturally, if you've invested in a down jacket, you'll want to see a good return on your investment before you recycle it. To help you extend the life of your down jacket, we've put together this handy guide that will teach you how to safely clean it and give it a much-needed boost.
Why should you clean your down jacket?
A durable water resistant (DWR) coating is commonly applied to the exterior fabric that make up the outside of your jacket. The hydrophobic coating repels water, keeping the lofty, sumptuous down feathers safe and dry so they can keep you warm.
While a DWR coating acts as a barrier, it will be compromised by dirt, body oils, abrasions, and general wear and tear. Washing your down jacket, even if it isn't treated with a DWR finish, can help reinvigorate its insulation.
How to Care For and How to Wash Down Jackets?
Most people are apprehensive about washing down items for fear of ruining them, but the good news is that it's actually extremely simple to clean down and revitalise it back to its original state.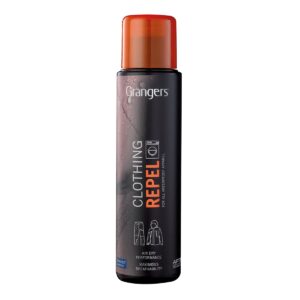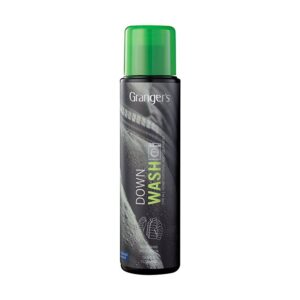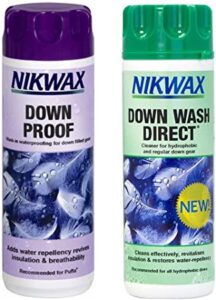 Most down jackets are machine washable. Nikwax and Grangers have developed special cleaning chemicals intended exclusively for cleaning and reproofing down jackets.
Shop Granger's Down Wash on Amazon
Shop Nikwax Down Wash on Amazon
You can safely remove dirty residues, revitalise the down and restore the durable water resistant (DWR) protection by washing your garment with one of these special down cleaners and then applying a water-repellent treatment.
Granger's even have a combined 2 in 1 down wash and repel to save you time if you need both in one.

Shop Granger's Down 2 in 1 on Amazon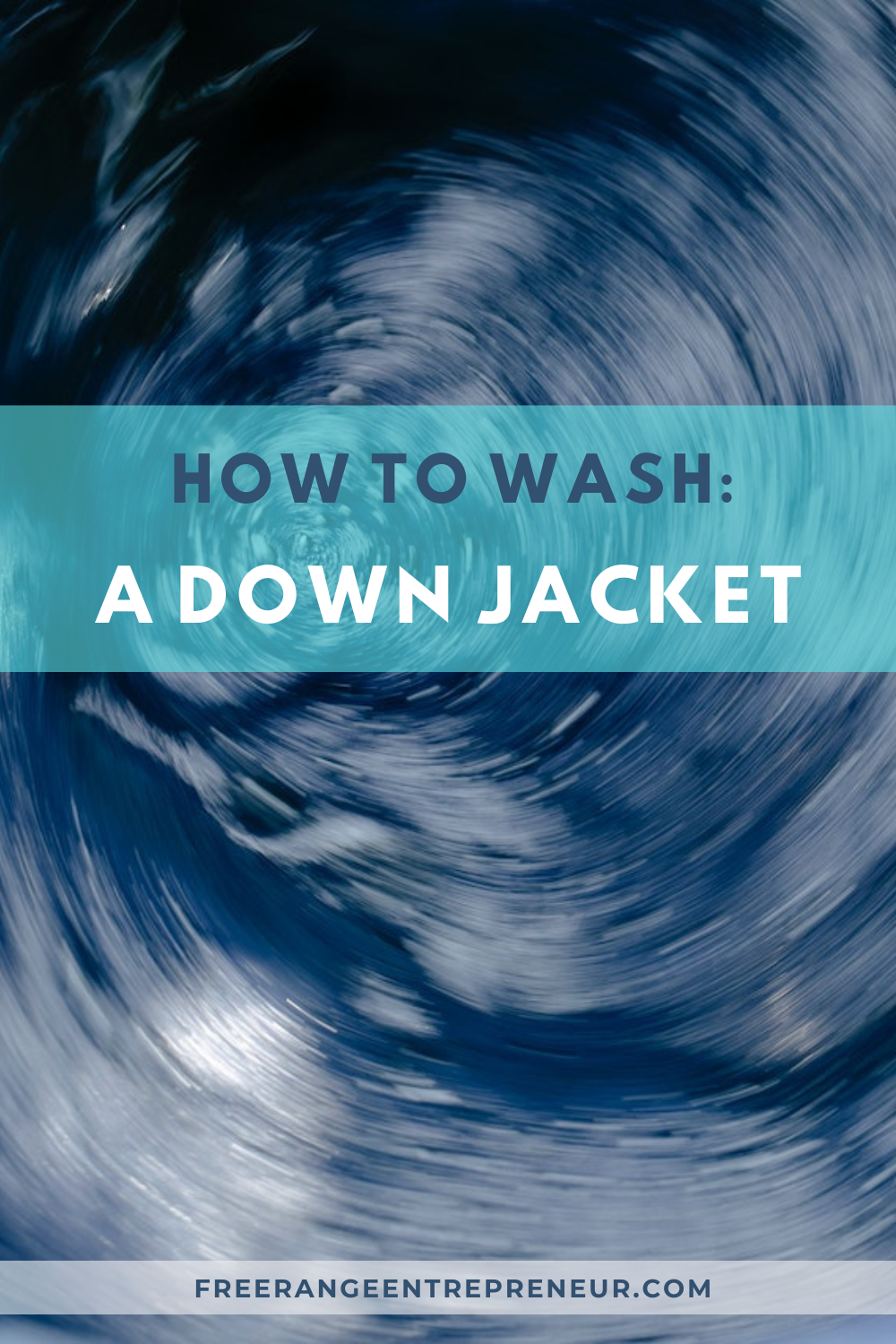 How to clean your down jacket like new step-by-step instructions.
Step 1
Wipe away any loose debris with a soft-bristle brush or a dry cloth before washing, then shut all zips, pockets and flaps on the jacket.
Step 2
Make sure the detergent container in your washing machine is clean and clear of any additional detergents. Set your washing machine on a hot wash cycle with no clothes in it to get rid of any residual residue.
Step 3
Wash your jacket separately in the washing machine to get a thorough clean and avoid squishing.
Step 4
Pour the cleaner into the detergent compartment according to the cleaner's instructions. When it comes to cleaning down, we recommend Nikwax Down Wash Direct.
Step 5
Unless the down jacket's care label specifies otherwise, put the washing machine to the lowest wash setting and begin the cycle at 30°C.
Step 6
Once it's clean, put it in a low-heat tumble dryer and check on it every 15 minutes until it's totally dry and restored to full loft. We recommend adding tennis balls or Dryer balls in with it to help break apart the clumped down fibres. This will help it get back to it's even fill distribution and original fluffiness.
Be aware that the drying process might take up to three hours, and that the heat should not be raised above low. Higher temperatures might cause the jacket to be damaged or melted.
Granger's Down Wash Kit comes with three dryer balls and their Down Wash cleaner for a thorough clean.
Don't worry if you don't have a tumble dryer, you can air dry it. This will take a lot longer to dry, and you'll have to separate the down fibres by hand. So pick something entertaining to watch on TV since you'll be there for a while.
How to Wash a Down Jacket By Hand?
Similar to steps above, if you don't feel comfortable washing your down jacket in the washing machine, or the label recommends hand washing, follow these steps below.
Step 1
Wipe away any loose debris with a soft-bristle brush or a dry cloth before washing, then shut all zips, pockets and flaps on the jacket.
Step 2
Handwashing is recommended for down jackets that encourage it, or if you don't feel comfortable washing yours in the machine. Fill a sink halfway with cold water and add the suggested amount of down wash detergent. Alternatively if your item is larger than your sink, you can wash your down jacket in a big sink, laundry tub, or bath tub.
Step 3
Soak the jacket in soapy water by pressing it down into the water. Gently agitate the jacket in the water with your hands to loosen dirt. Then soak it for 15 minutes. To minimise damage, avoid lifting up your wet and heavy jacket. If you're worried about harming your precious down jacket, take it to the dry cleaners. Their expertise and cleaning processes are gentler on clothing fabrics.
Step 4
After 15 minutes, remove the jacket and drain the soapy water from the tub. Rinse the jacket well in the tub but avoid picking it up.
If it isn't as clean as you would like, fill the tub halfway with clean water and soak the jacket for a further 5 to 10 minutes. Then, push the jacket away from the drain once more and let the water to drain.
Pour some more water over the jacket to get rid of any remaining soap.
Step 5
Excess water should be squeezed out with your hands before lifting up the jacket to dry it.
Step 6
Follow step 6 above to dry your jacket.
Read: