18 Of The Top Digital Nomad Reddit Channels From Helpful to Funny To Follow Today
Reddit is the world's 17th most-visited website, with people using it to obtain information, inspiration, and occasionally even employment opportunities. Fortunately, there are several digital nomad Reddit communities on this site.
This means plenty of opportunity for you to discuss the digital nomad lifestyle, remote work, being a freelancer, or starting your own business.
Do you want to be a digital nomad?
Do you want to learn how to make money online?
Do you need full-time or part-time travel advice?
Do you want remote work advice to manage existing commitments e.g. family
Do you want to learn how to set up and grow an online business?
The digital nomad community on Reddit is an excellent resource! It's a great place to get advice, ask questions, and simply share your thoughts.
Reddit is a completely different platform that takes some time to learn. To encourage more conversations, the platform aggregates content and allows members to upvote and downvote posts. This method allows you to locate the most relevant and useful information on a variety of topics. Subreddits are essentially small communities on Reddit that bring people together based on their a particular topic or interest.
Picture these Reddit digital nomad channels to be a place where you can learn from the experience of others of being a digital nomad (whether you're just starting out or already on the road), how to make money online, and perhaps discover the benefits and drawbacks of the digital nomad lifestyle.
In this blog post, we will share the best Reddit digital nomad channels to join so you can get involved, learn more and for you to explore.
Why Should You Join A Reddit Digital Nomad Channel?
If you want a fast-paced culture and an engaged community where you can interact with others in real-time, Reddit may be the ideal digital nomad platform for you.
The Reddit platform contains a wealth of information on virtually any subject you can think of. It is the best location for anyone to:
Carry out research on your topic
Obtain guidance in making decisions
Join a group of like-minded people.
"AMA" threads in which you can ask anyone anything.
If you're interested in any aspect of the nomadic lifestyle, we recommend checking out the following digital nomad Reddit channels.

1. Digital Nomad
This is the largest Reddit digital nomad community you could join, with over 1.7 million members.
Many people are voicing their opinions, asking questions, and offering helpful advice about the digital nomad movement. The r/digitalnomad channel is full of people who share enthusiasm for the digital nomad lifestyle.
This Reddit digital nomad channel will teach you about:
The best locations for digital nomads
How to start making money online
Setting a digital nomad budget
Remote work jobs that are hiring
General advice from experienced digital nomads
This community is brimming with useful information about co-working spaces, digital nomad places to see, the best careers for working remotely, how to manage your travel expenses, and even the best digital nomad books to read.
Make sure to follow this Reddit digital nomad channel. You can thank us later!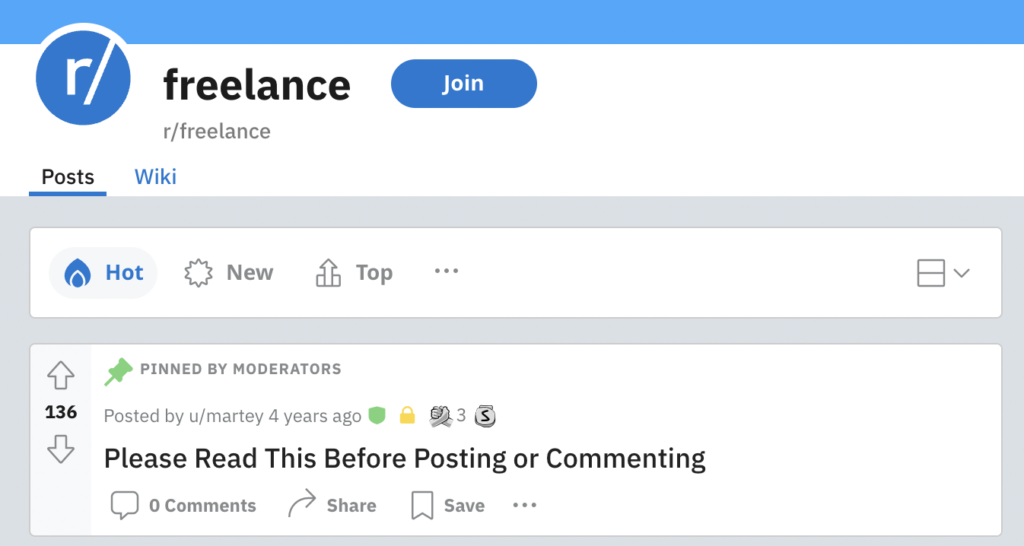 2. Freelance
Freelancing is one of the simplest and quickest methods to become a digital nomad. The truth is, if you don't have an online income, you won't be a digital nomad for long. Freelancing on sites like UpWork or Freelancer.com is a terrific method to create an online income while remaining somewhat in control of your schedule.
If you want to freelance, the r/freelance subreddit is unquestionably the one to follow. This Reddit digital nomad channel will teach you:
Talk about your recent projects
Discuss your likes and dislikes of freelancing
Get advice and ask questions to existing freelancers
Bear in mind however, this is not a channel where you find or post job ads. This Reddit group has extremely tight rules that you must obey. They will not tolerate any self-promotion or market research queries.
With approximately 325k members and stringent criteria, you can be confident that you will receive really helpful guidance from experienced freelancers who genuinely care about the community.
Read: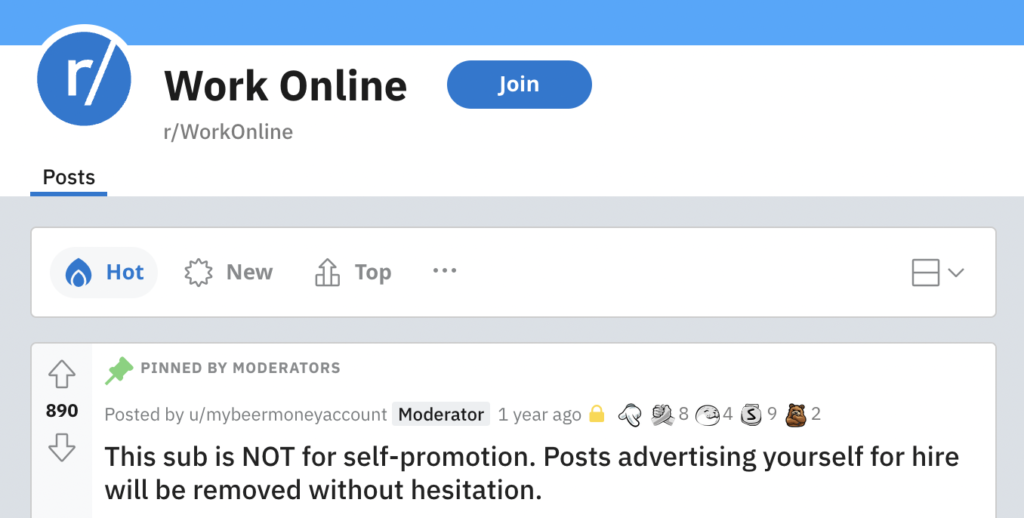 3. WorkOnline
Similarly to the freelance subreddit, if you have any questions regarding working online, or simply want to discuss the ups and downs of working online, the r/WorkOnline subreddit is the place to be.
You can learn about:
Various online work-paying sites
Internet job listings
Website monetization
With around 450k members, this is an excellent spot for graphic designers, new freelancers, or any popular vocation that can be done remotely to learn from others in the field.
It provides information on websites that pay, employers, random online jobs, as well as some helpful guidelines and tips on how to monetize your website.
This community is very responsive. When someone posts a question, they answer it immediately.
If you want to learn more about working online, then join the r/WorkOnline digital nomad channel on Reddit!

4. Writers
r/Writers is an amazing Reddit channel for anyone looking for online writing success and to publish a book. It is an excellent resource for ghostwriters who want to enhance their writing skills because it provides helpful writing material.
There are lots of online videos and amazing writing tutorials. As a writer, their practical strategies for becoming a top writer are really useful.
If you are a passionate writer looking to create your first viral blog post, exciting new book chapter, or work online as a freelance writer, this is the channel for you.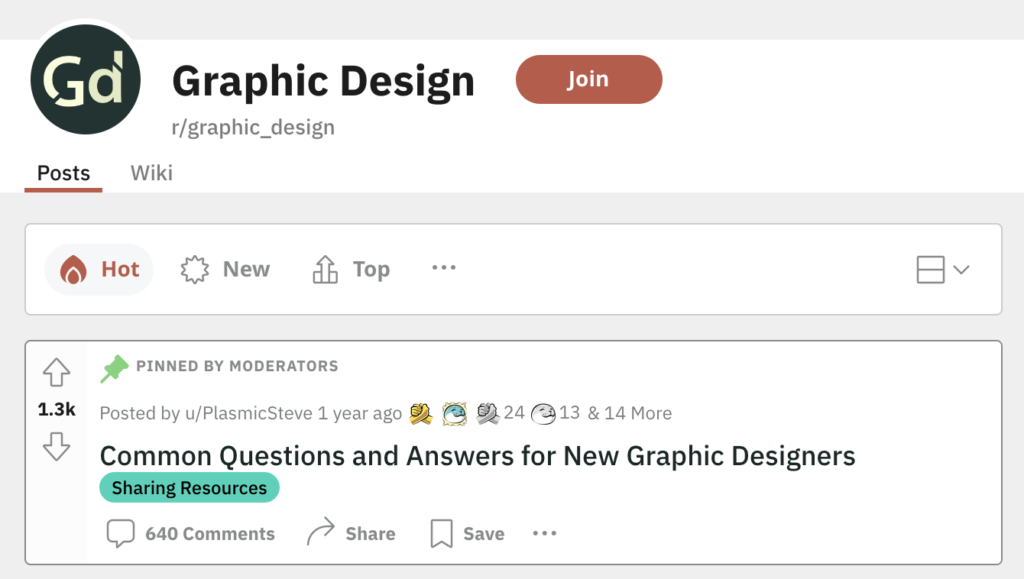 5. GraphicDesign
The r/GraphicDesign Reddit channel is an exciting area for newly graduated students who need actual solutions to their problems. It is also a location where people can offer guidance to those in need.
Members may get information and recommendations on topics ranging from the simple to difficult design questions.
If you are a graphic designer or want to learn more about it, this one is worth checking out.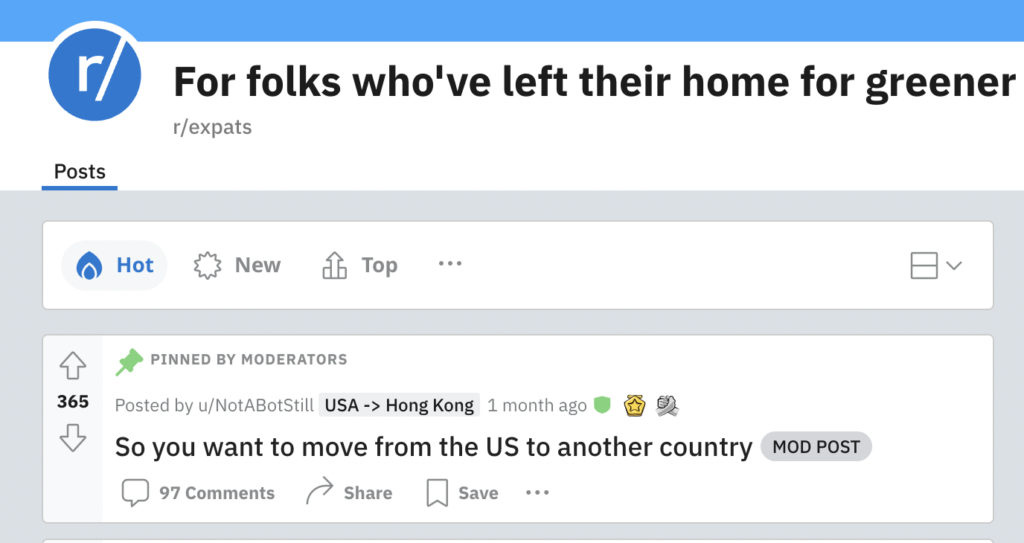 6. Expats
r/Expats
is a channel for anyone who has left their native country and moved to a new one.
This Reddit digital nomad channel will teach you:
Moving from one city to another
Tips on moving to a new country
International banking advice
Things to consider for international students
Ask questions and get advice with moving to a new locality. With over 80k members this is an active Reddit community with lots of helpful advice for anyone thinking of taking a leap.

7. Travel
If you're an aspiring digital nomad, long-term digital nomad or more seasonal and occasional family traveller, you must join the Reddit r/travel community!
One of the primary reasons we become digital nomads is our strong desire to travel. Travel is one of the best teachers, and the experiences and moments gained from visiting new places are priceless. You learn about other people, broaden your horizons to various cultures and foods, and step beyond your comfort zone.
This r/travel Reddit digital nomad channel will teach you:
Discover different ways of transport
The greatest places to stay when travelling (e.g. Airbnb vs hotels vs hostels, etc)
Travel information, tips, and frequently asked questions
Sharing travel photographs and experiences
This Reddit travel group has over 6.8 million members, and the administrators clearly put their hearts and souls into this channel. There are various sub-topics to help you discover information.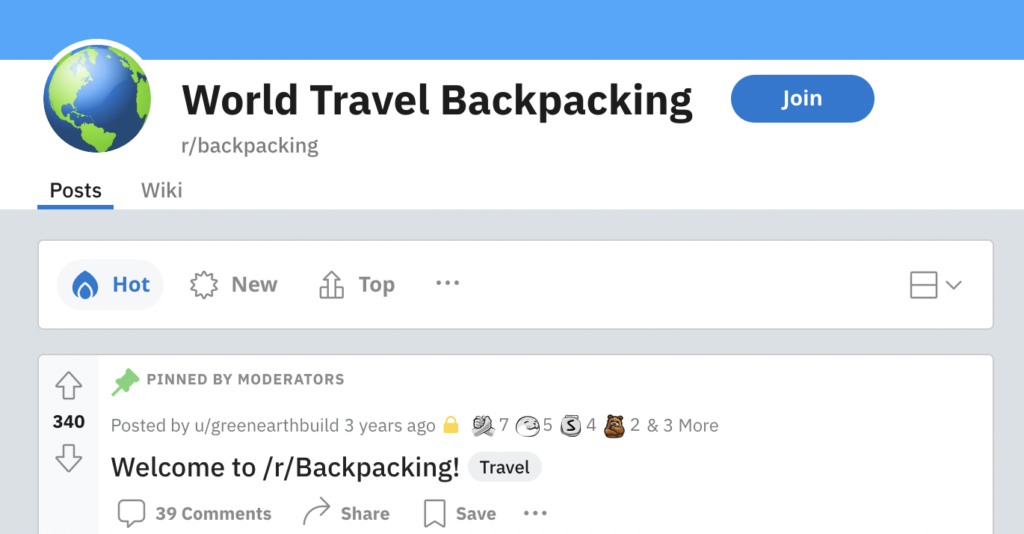 8. Backpacking
Backpacking is and is likely to remain one of the greatest and cheapest methods to travel. You can meet hundreds, if not millions, of travellers who are now travelling throughout the world.
Some of these backpackers travel because it is inexpensive and enjoyable for them. While travelling and working remotely at the same time is not without its challenges and therefore not recommended for all, many individuals do.
r/Backpacking Reddit channel has 3.2 million members and provides a variety of topics around travel and wilderness as well as hundreds of useful resources for travellers all around the world.

9. Onebag
The r/onebag channel is useful for anybody wishing to streamline their travels. Tired of carrying around a bag or backpack packed with items you rarely use? You can discover all the tips, techniques, and hacks to make travelling easier so you can focus on what's essential… your experience!
This Reddit digital nomad channel will teach you about:
How to implement minimalist principles
Best backpacks for digital nomads
How to pack smartly
Best luggage for digital nomads
When you start travelling it's easy to bring lots of extras along but after a while you realise that a lot of those items rarely get used and take up unnecessary weight and bulk. Being purposeful with what you have and letting go of things that don't offer value to your life is key.
Often gear and items of clothing can serve a dual or multiple purpose and, if you are careful with what you choose, you can do away with the extra ones and travel lighter. Of course this isn't as straight-forward when travelling with kids but again, being purposeful with what you do bring will help you avoid carrying around extra weight.
Read: 14 Best Lightweight Men's & Women's Packable Down Jacket 2022

10. Entrepreneur
Whether you're an aspiring entrepreneur or an established entrepreneur, the r/entrepreneur subreddit is a friendly community of entrepreneurs, company owners, and professionals. You can talk about anything from lemonade stalls and one-person gigs to scaling start-ups and more in this 1.4 million strong group.
This Reddit digital nomad channel will teach you:
Side hustles
Small business
VC backed start-ups
Systems, methods, and tools
Many digital nomads run their own internet businesses. In many cases it will be the ultimate freedom for digital nomads since you are the boss, you make the decisions, and there is no limit to what you can accomplish.
It's one of the most common strategies to maintain a digital nomad lifestyle or support your family. If you're interested in business, you should consider joining the Entrepreneur community on Reddit.
Read:

11. Business
If you're searching for a location to get all of the latest business news, r/Business is the place to be. Because it is updated every 10 minutes and with over 700k members, this community is incredibly active.
All of the most recent trends and business articles are available. By joining this subreddit, you will always be up to date on business trends.
This group has lots of members, but they all adhere to the rules and restrictions they have established. This business channel teaches you how to make wise decisions and helps you avoid the foolish ones, from business management advice to pitfalls to avoid.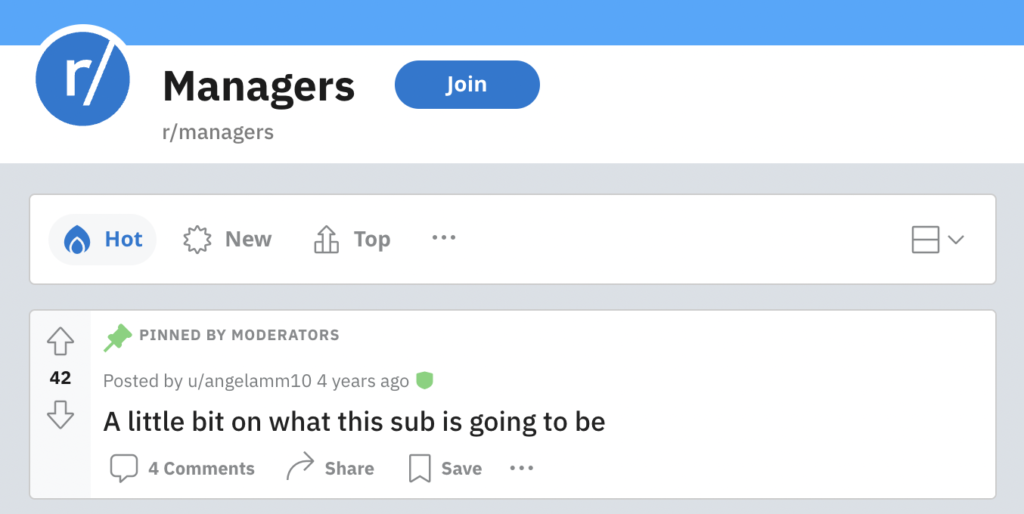 12. Managers
The subreddit r/Managers is a niche community with around 7k people for all types of managers. Managers tasked with managing remote teams are occasionally caught off-guard. They are unsure how to build and improve staff morale or handle teams remotely.
This Reddit Managers channel will guide you on:
How to hire remote workers
How to incentivise employees to work independently
How to enhance morale
Managers from all around the world discuss their experiences on this channel and can request further information and advice. They can also receive support if they are unsure whether they are competently handling a situation.

13. Remotework
Since the COVID outbreak, the remote working community has expanded dramatically. This r/remotework subreddit community on Reddit will only expand as more people adopt the work-from-home lifestyle long-term and employers begin to understand the benefits of their staff working remotely.
This Reddit digital nomad channel will teach you:
Beneficial remote work software
Ideas and recommendations for efficient working
Remote job listings
Tips about working as part of a remote team
Compared to some of the others on this list, it's a relatively small group with around 25k members, but that doesn't mean there aren't interesting discussions going on. Get in on the ground floor of this new remote working revolution.

14. WorkFromHome
Similarly to the last channel in the list we have r/workfromhome Reddit channel with a approx. 27k members and growing.
This channel is for you if you want to start working from home or learn everything about moving from the office to working from home. This Work From Home subreddit is perfect for you.
Many individuals have become WFH employees as a result of the COVID-19 pandemic. You can transition into the digital nomad lifestyle gradually or more quickly after you're settled working from home.
Equally helpful for parents looking for more flexibility in their work without the commute to manage family commitments and spend more time at home.

15. WFH
As above we have another work from home (WFH) Reddit channel in the form of r/WFH.  This community is 28k members strong and welcomes people interested in, you guessed it, working from home. While not explicitly the same as digital nomad lifestyle, there are a lot of crossovers between being a digital nomad and working from home and some of the same challenges are faced in working remotely.
This subreddit welcomes those who work from home, whether for themselves or a business. Learn shortcuts and techniques to increase your output, stay focused, and generally have a better experience.

16. Beermoney
This group is one of the most interesting and colourful venues to discuss making money online. You should not anticipate it to help you get rich because it is a community where you can get information to assist you make some extra money on the side. And with 1.1 million followers, there's plenty of discussion.
So far, the r/beermoney Subreddit has served as a great home for the resource. You can discuss websites where you can discover tiny jobs to assist you to make extra money. This community also maintains an up-to-date list of websites that provide online employment.

17. ForHire
r/ForHire is an channel for skilled professionals with 280k people, and its major community rule is that no free labour be requested or offered. If you are a trained professional, it is one of the finest sites to look for work.
A rule on this Subreddit states that proposing or accepting a job for less than $15 per hour is considered demeaning and inappropriate. The implication is that the administrators will promptly delete all posts with low-quality work.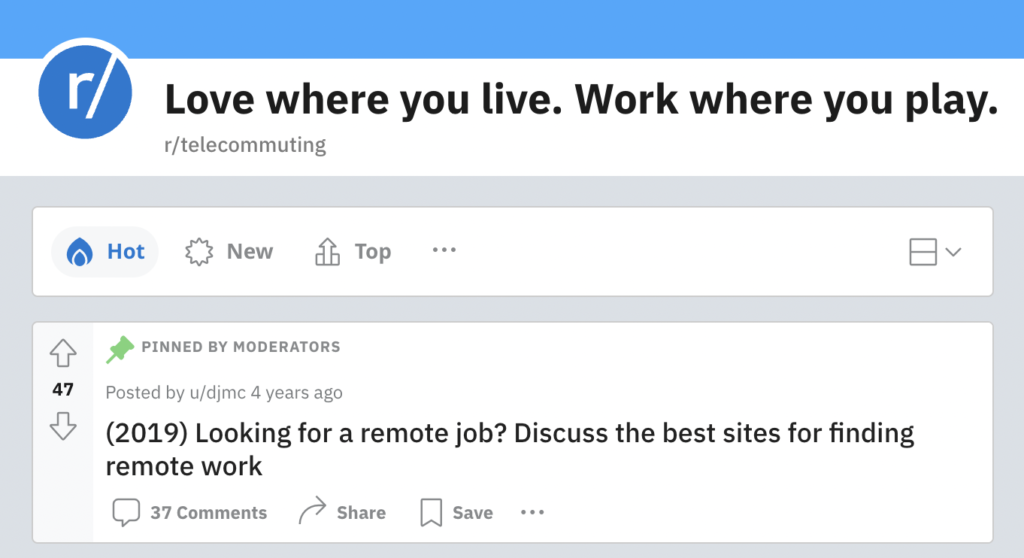 18. Telecommuting
This r/Telecommuting Subreddit one of the smaller groups but is a collection of intriguing sites from which to telecommute. They request a lot of information from those who work remotely online. As a result, experienced members of the group can assist other members who want to work online remotely.
This is an extremely active community. It's funny because even when you initially join the group, they'll ask you to recommend a great spot to work remotely.
For online work, top recommendations include Remote.co, Flexjobs and We Work Remotely.
Conclusion
We hope you discover the ideal digital nomad groups for yourself, and if Reddit is the place for you, we hope you find the right sub to join!  We love them all, and we hope you find some valuable insights in the wealth of information on Reddit that makes the prospect of the digital nomad lifestyle a little simpler.
Read:
11 Digital Nomad Jobs For Beginners: Ways to Make Money And Travel the World
18 Best Ways of Making Money While Travelling The World Full Time (or part time)